Swing Check Valve ASME CLASS 150~2500
Product Detail
Product Tags
What's ASME Swing check valve?
Check valves,non-return valves,are designed to prevent the reversal of flow in a piping system. These valves are activated by the flowing material in the pipeline.The pressure of the fluid passing through the system opens the valve, while any reversal of flow will close the valve.Closure is accomplished by the weight of the check mechanism,by back pressure, by a spring, or by a combination of these means.
ASME Swing Check Valve,swing check valve designed and manufacturered according to ASME B16.34,test and inspect to API598,API6D.

That opening has to be clear in order for anything to pass through. The disc is attached to a hinge, so the disc can swing open or closed when liquid hits the disk. It's kind of like a circular door. The direction of the flow is the most important thing when using these valves.
When liquid is traveling in the desired direction, the pressure of the flow pushes the door open, allowing liquid to pass through. When liquid travels in the wrong direction, the opposite happens. The force of liquid coming back through the valve pushes the disc against its seat, closing off the valve. When installing a swing check valve, it is vital that it opens when liquid is passing through the desired direction. If you install one of these valves and no water goes through, then it is the wrong way around and must be reinstalled. If your swing check valve has a true union design, it can easily be removed from the pipeline.These valves are available in many different forms. Metal swing check valves are often seen in heavy industrial use.
 As stated before, a swing check valve is for when you want fluid traveling in only one direction. Another important detail about these valves is that they require no external power, which makes them ideal for a wide range of applications. They also let fluid pass through without slowing down the flow much when fully open.Swing check valves are usually installed in conjunction with gate valves because they provide relatively free flow.They are recommended for lines having low velocity flow and should not be used on lines with pulsating flow when the continual flapping or pounding would be destructive to the seating elements.This condition can be partially corrected by using an external lever and weight.
Main features of ASME Swing check valve?
Main Features of

ASME Swing Check Valves

:
● Body and cover: Precision machined castings.stem does not penetrate body.

● Body and cover joint: spiral wound gasket,stainless steel with graphite or PTFE.

● Disc: Robust one-piece construction to withstand the severe shock of check valve service. Hardfaced with 13Cr, CoCr alloy, SS 316, or Monel, ground and lapped to a mirror finish. SS 316 disc with CoCr alloy facing also available.

● Disc assembly: Non-rotating disc is fastened securely to disc hanger with a lock nut and cotter pin. Disc hanger is supported on a sturdy disc carrier hinge pin of excellent bearing qualities. All parts are accessible from top for easy servicing.

● Flanges:ASME B16.5,Class150-300-600-900-1500-2500
Technical specifications of ASME Swing check valve?
Technical specifications of ASME Swing check valves
| | |
| --- | --- |
| Design and manufacturer | ASME B16.34,BS1868,API6D |
|  Size range |  2"-60" |
|  pressure rating (RF) |  Class 150-300-600-900-1500-2500LBS |
|  Bonnet design |  bolted bonnet,pressure seal bonnet(PSB for Class1500-2500) |
|  Butt weld(BW) |  ASME B16.25 |
|  End flange |  ASME B16.5,Class150-2500lbs |
|  Body |  Carbon steel WCB,WCC,WC6,WC9,LCB,LCC,Stainless steel CF8,CF8M,Dulpex stainless,Alloy steel etc |
| Trim |  API600 Trim 1/trim 5/trim 8/trim 12/trim 16 etc |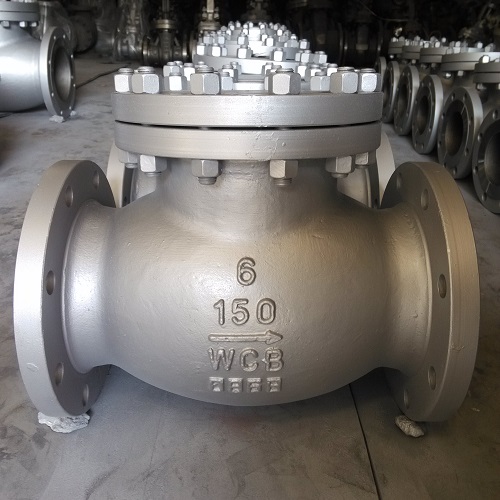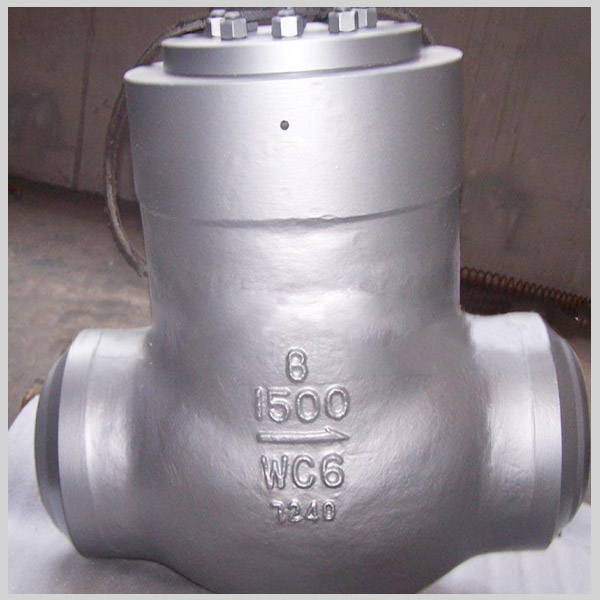 Applications of ASME Swing check valve:
This kind of  ASME Swing Check Valve is widely utilized in pipeline with liquid & other fluids. 
*General Industrial

*Oil and Gas

*Chemical/Petrochemical

*Power and Utilities

*Commercial Applications
---
Previous:
Full Weld Ball Valve
Next:
Top Entry Check Valve
---