ASME B16.34 gate valve Electric Knife Gate Valve Water Valve China factory
Product Detail
Product Tags
What is ASME B16.34 gate valve ?
The opening and closing parts of the ASME B16.34 gate valve  are the gate,in shape of a wedge,that's the reason that they are named as wedge gate valve.the direction of motion of the gate is perpendicular to the fluid direction. The wedge gate valve can only be fully opened and fully closed and can not be adjusted and throttled.The gate valve was designed to be used either fully open or fully closed, because due to the shape of its obturators which have the shape of a wedge.
ASME B16.34 gate valve,designed and manufactured according to the American standard API600,ASME B16.34, flanged end to ASME B 16.5, and tested according API598, has a specific and restricted function to release or block the flow of different types of fluids in pipelines.
Main features of ASME B16.34 gate valve
Main Features
Seat face Stellite Gr.6 alloy hardfaced, ground and lapped to a mirror finish.

A Stellite hardfaced CF8M wedge is also available on request.

Non-rotating rising stem with precision Acme threads and burnished finish and brass stem nut,the risng stem.

Body and bonnet jasket accurately machined and spriral wound gasket.

Flanges:ASME B16.5 and ASME B16.47 for 28"-72"

Small flow resistance and pressure loss,due to the straight flow passage and full open wedge.
Bi-directional sealing
long time to shut down and slow movement of the wedge,no water hammer phenomenon for the wedge gate valves.
Compact form,simple structure,makes it easy for manufacturing and maintenance,and wide range of application.
Small torque required when opening and closing.no matter it is open or closed,the movement direction of the wedge is perpendicular to the flow direction of the medium.
Technical specifications of ASME B16.34 gate valve
Specifications:
| | |
| --- | --- |
| Design and Manufacturing | API600,ASME B16.34 |
| NPS | 2"-72" |
| Pressure rating | Class150-Class2500 |
| Body Materials | WCB, WC6, WC9, WCC, CF8, CF3, CF3M, CF8M, 4A, 5A |
| Trim  | Trim 1,5,8 and other trims on request |
| Face to Face | ASME B16.10 |
| Flange Standards | ASME B 16.5, ASME B16.47 |
| Buttweld | ASME B 16.25 |
| End Connection | RF,RTJ,BW |
| Inspection and Test | API598 |
| Operation | Handwheel,Worm gear,Electric actuator |
| NACE | NACE MR 0103 NACE MR 0175 |
Product Show: ASME B16.34 gate valve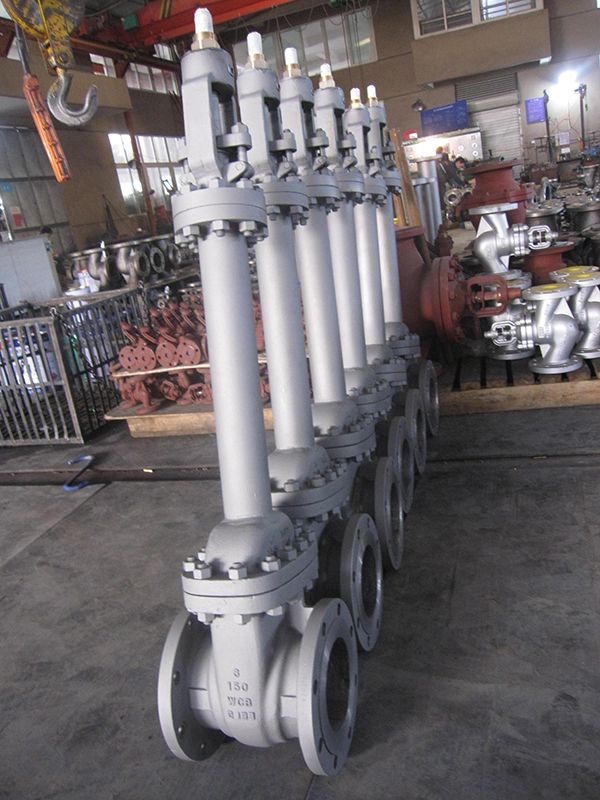 Applications of ASME B16.34 gate valve
This kind of  ASME B16.34 gate valve  provide optimum performance in conditions where high flow efficiency, tight shut off and long service is required. A wide choice of shell and trim materials do cover the whole range of applications, from the every-day type of non-corrosive service to critical service with highly aggressive media. it is widely utilized in pipeline with liquid & other fluids,Petrol,oil,Chemical,Petrochemical,Power and Utilities etc
---
---