Double Eccentric Butterfly Valve rubber seated
Product Detail
Product Tags
What's the double eccentric butterfly valves?
Double Eccentric Butterfly Valve is an innovative double offset design product with advanced world leading technology. This butterfly valve has a unique structure with ultra reliable sealing performance, wide working conditions and low operation torque.
The double eccentric  butterfly valve`s sealing ring is made of elastomer fit in disc, it availabe be used in unidirectional sealing application, Commonly used in the water or municipal water appliacation.
what makes it different from all the other butterfly valves,is the double eccentric or double offset disc design.
it allows the disc to move off the seat reducing running torque and seat wear,it's a big advantage compared to the concentric butterfly valves.
Double eccentric butterfly valves,with a seal ring fixed by cover plate,It will make the valve has a nonstop fixing surface on the circle and make the valve didn't touch the seat at all when it is completely opens. This design will make the seat encounter less friction and accordingly will extend its lifetime. In common application,this bi-directional balance butterfly valve is restricted to class 150.
Main features of NORTECH double eccentric butterfly valves rubber seated?
Resilient seated Double eccentric butterfly valves rubber seated
Design standard: BS EN593
Face to face length : EN558-1/ISO5752 series 14& ISO5752 series 13
Flange dimension and drill : BS EN1092/BS4504 (DIN2501)
Size: DN350 – DN3000/ 14"-120"
Pressure rating:PN6- PN10-PN16-PN25-PN40
Application: water, drinking water, sewage, low-corrosive liquid etc. 
WHY TO CHOOSE US?
Quality and service:more than 20 years of experiences of OEM/ODM services for leading european valve companies.
Quick delivery,ready for shipment 1-4 weeks,with considerate stock of resilient seated butterfly valves and components
Quality guarantee 12- 24 months for resilient seated butterfly valves
Quality control for each piece of butterfly valve
Main feautres of Double eccentric butterfly valves rubber seated:
Longer service life due to tilted disc
The tension on the disc is released after a few degrees of opening which minimises wear of the disc seal. Furthermore, the design minimises the compression of the sealing which ensures low operating torques.
Twin seat designs
The integral seat design has a machined and epoxy coated ductile iron seat integrated in the body. The stainless steel seat design has a replaceable seat ring of stainless steel sealed with an O-ring to avoid leakages under the seat ring.
Shaft design features
The shaft sealing is replaceable under pressure to enable easy maintenance. Sealings of EPDM secure tightness from inside and out, and NBR sealings protect against impurities and fluids from outside.
Disc seal optimised for high performance
The disc seal is shaped to secure fixation in correct position providing a very reliable function. The excellent rubber quality makes it possible to reduce the amount of rubber which ensures low closing torques. The EPDM sealing is approved by ACS and WRAS.
Bi-directional tightness
The valves are bi-directional and uni-directional on demande.
Replaceable seal on disk with non-stop fixing
Ddouble offset design results in less seat wear, lower torque
less friction ensures super long usage life
Renewable sealing ring
Epoxy paint body&disc
ISO 5211 top flange for various operation
Zero leakage on both sides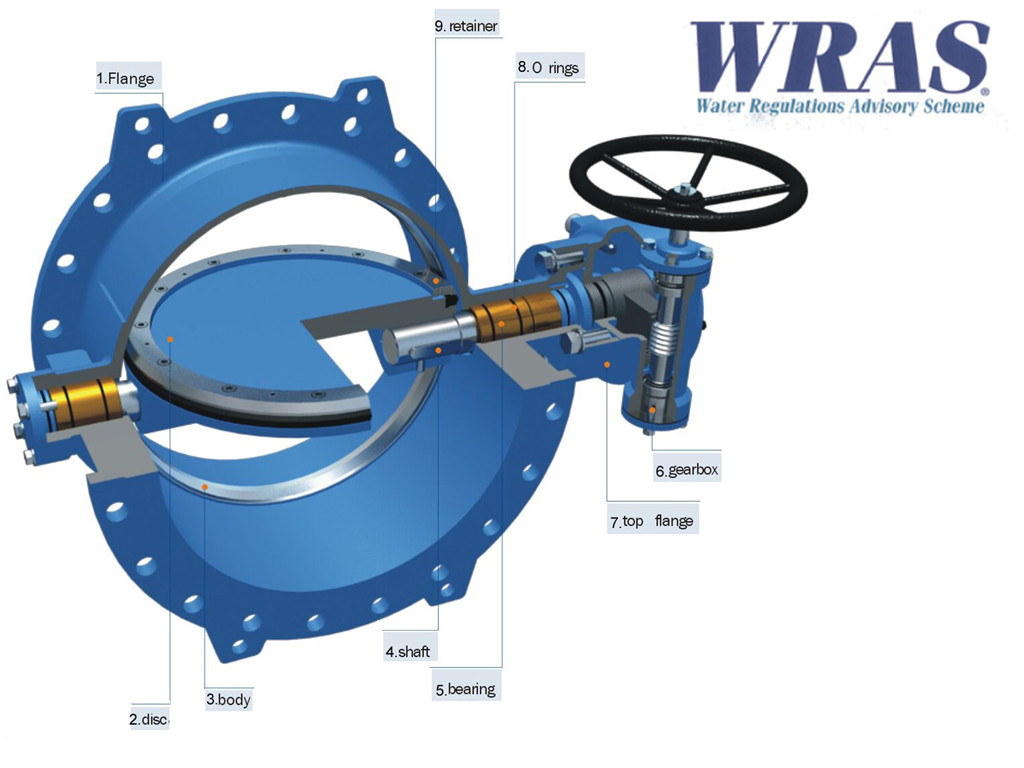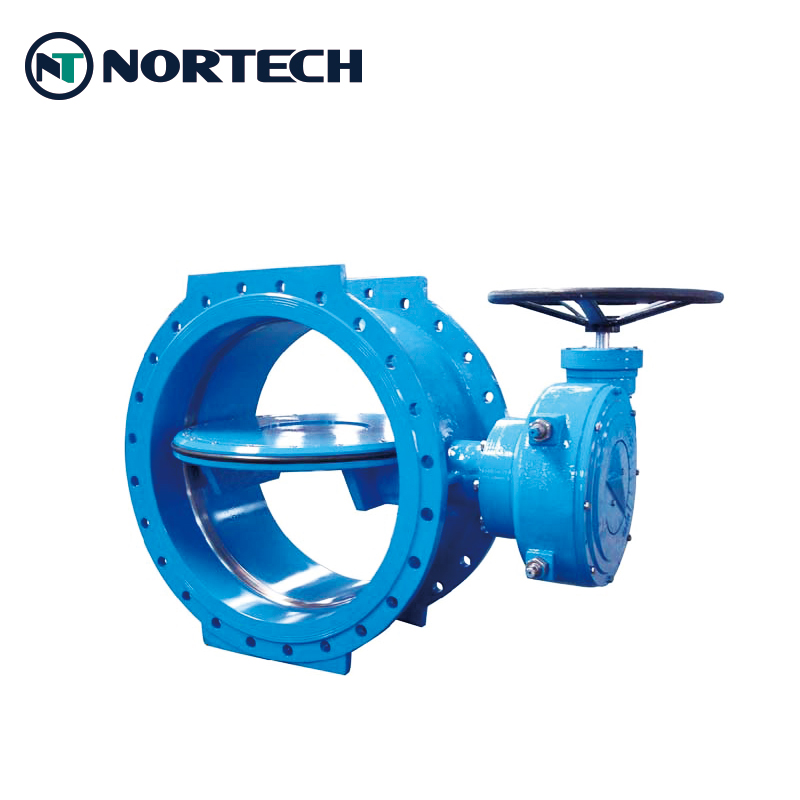 Type of Operation for Double Eccentric Butterfly Valve rubber seated
for Double eccentric buttefly valves rubber seated,we provide
Manual gearbox operation,Pneumatic actuator,electric actuator,and hydraulic acatuators for your option.
Technical specifications of NORTECH double eccentric butterfly valves rubber seated?
| | |
| --- | --- |
| Design and Manufacture  |  EN 593/API609 |
| End Connection |  Double flanged |
| Operation |  Manual/Pneumatic/Electric |
| Size Range |  NPS 14"-120"(DN350-DN3000) |
| Pressure Rating |  150 psi, 275 psi or 500 psi(PN10-16-25) |
| Face to face |  EN558-1 series 13/series 14 |
| Flange  |  EN1092-2,ASME B16.5,AWWA C207,ASME B16.47 |
| Inspection | EN / AWWA C504/C519 / NSF 61/372 Certified |
PART NAME

Material

BODY

ASTM A536 65-45-12/ EN-JS 1030 (GGG-40), EN-JS 1049 (GGG 40.3),Stainless steel (1.4408)

DISC / PLATE

DI+NI,CF8/CF8M,C954/C958
EN-JS 1030 (GGG-40)
Stainless steel (1.4408)

SHAFT / STEM

SS431/SS420/SS410/SS304/SS316

SEAT / LINING

NBR/EPDM/VITON /PTFE/PFA

TAPER PINS

SS416/SS316

BUSHING

BRASS/PTFE

O-RING

NBR/EPDM/VITON /PTFE

KEY

STEEL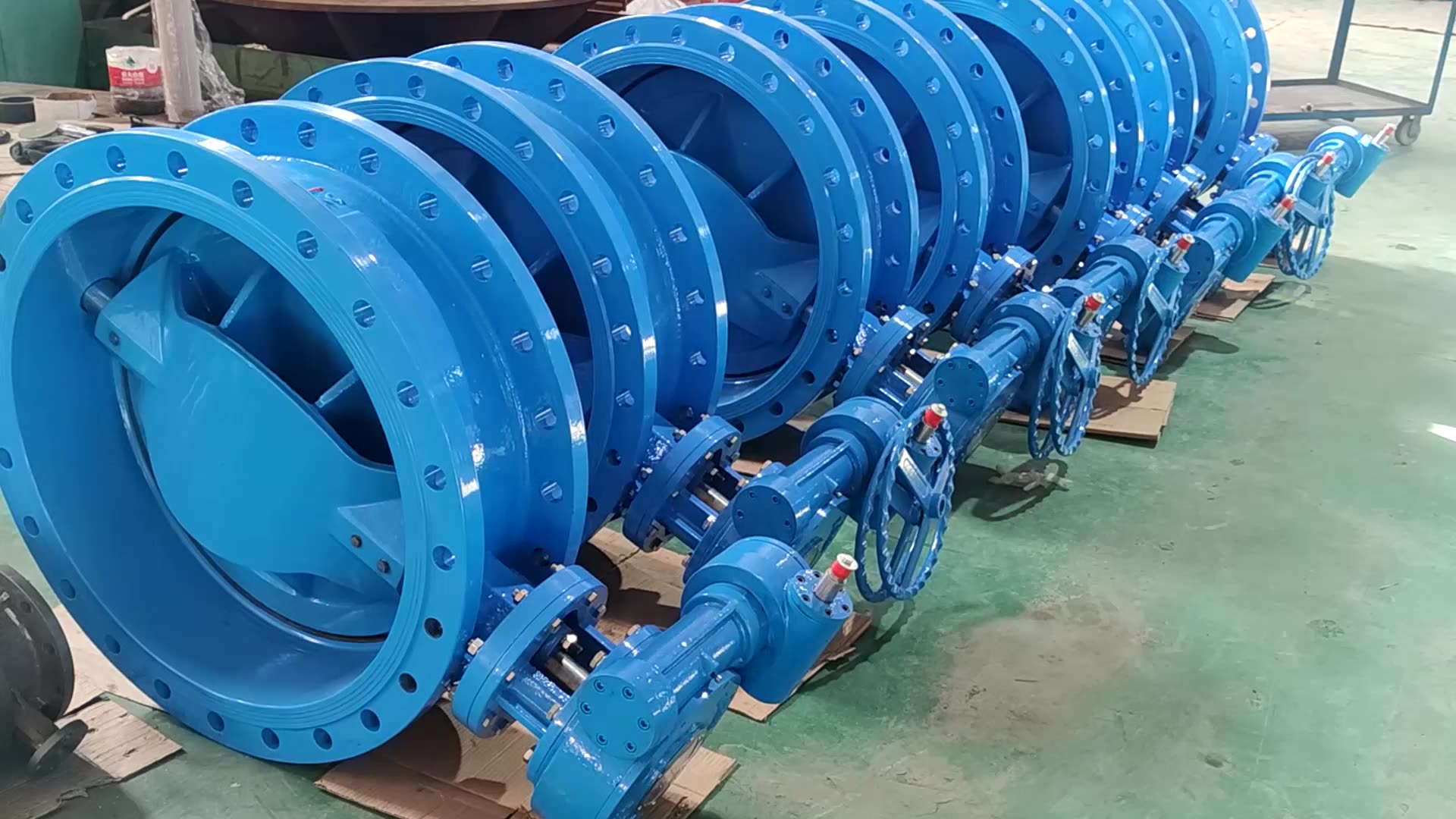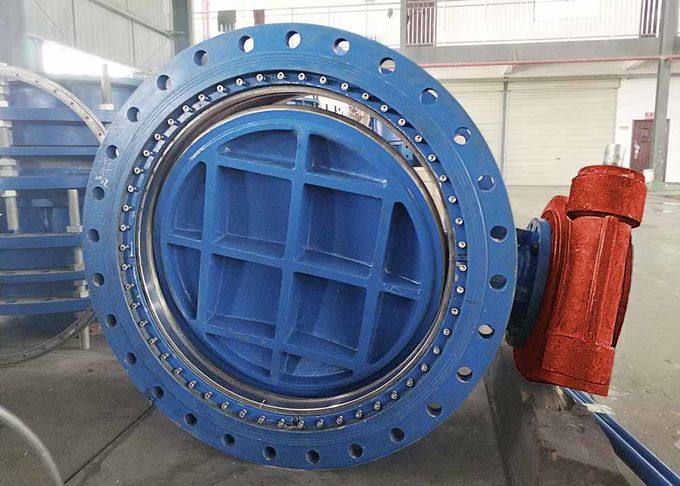 What is the Double Eccentric Butterfly Valve rubber seated used for?
This kind of  Double Eccentric Butterfly Valve rubber seated  is widely utilized in
Dams & hydropower

Industrial,

Irrigation,

Power plants,

Sewage & wastewater treatment,

Water treatment
---
---